---
Thursday November 16, 2017
11:45 – 12:00pm – Registration
12:00 – 12:40pm – Lunch
12:40 – 1:30pm – Presentation
Four Seasons Hotel
Chartwell Room
791 West Georgia Street, Vancouver
---
Event Description
THIS EVENT IS SOLD OUT
After a well-received presentation last fall, we are pleased to welcome back Sue Whitney to share an update about Payments Canada's Modernization journey. Sue's presentation will focus on the benefits and opportunities of modernizing. This will include an understanding about how access to richer data through the adoption of ISO 20022 will help streamline business processes and strengthen Canada's competitive position as a global leader in financial services. Also, how the implementation of a new Real-Time Rail, additional AFT windows with two-hour funds availability, and deployment of the new Real-time Gross Settlement system via Lynx will support faster and more efficient payment interactions.
Sue is a dynamic speaker who looks forward to sharing how the transformation of Canada's financial ecosystem will benefit all Canadians and open a gateway for future innovations. Given Sue's role as Head of Industry Relations for Payments Canada, Sue will also be able to provide a unique insight on how the industry as a whole is progressing on this Modernization journey.
---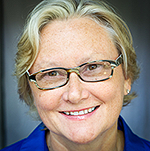 Speaker: Sue Whitney
Head of Industry Regulations
Sue Whitney is Head of Industry Relations for Payments Canada. She is responsible for direct engagement with all participants to shape modernization of the core clearing and settlement infrastructure. Sue is a 20 year veteran in the Canadian payments industry. After running her own consulting business, she led the design and launch of new retail payment solutions for Visa in Canada for more than eight years, including Visa Debit, Visa payWave, prepaid and Visa Checkout. Sue also launched new products and solutions for the Interac Network, including the development of its EMV capabilities. She has hands-on technology experience with a major Canadian fin tech company, optimizing software performance in fraud management and EMV processing. Sue also brings a unique perspective as a former regulator in payments, having held several executive roles in the Department of Finance in Ottawa.
---
Event RSVP
Early Bird RSVP by noon: Friday October 27, 2017
RSVP by noon: Friday November 10, 2017
---
2017-11-16 00:00:00 America/Vancouver Modernizing Canada's Payments Systems - The Benefits and Opportunities After a well-received presentation last fall, we are pleased to welcome back Sue Whitney to share an update about Payments Canada's Modernization journey. Sue's presentation will focus on the benefits and opportunities of modernizing. Chartwell Room<br/> 791 West Georgia Street, Vancouver AFP Vancouver info@afpvancouver.com
---